A true artist is somebody who can create an artwork out of anything. An illustrator's creativity and imagination is not bound by the material that comes in handy. They can construct creative art forms out of mere garbage, if required. That is the hallmark of a real designer. There are certain talented artists out there in the world who have the capacity to carve out sculptures using nothing but recycled material like plastic bottles, paper cups, leaves, scrap metal, used wood and other items of disposal.
Recycled art is a technique that provides inspiration and motivation to the designers that nothing is impossible to create if you have the will power and determination to do it. It teaches us designers and creative artists that we are not bound by tools or any other gadgets to erect creative and effective designs.
Check out these 20 imaginative and out-of-this-world examples of recycled art that will leave you bamboozled and startled.
1.Sound Wave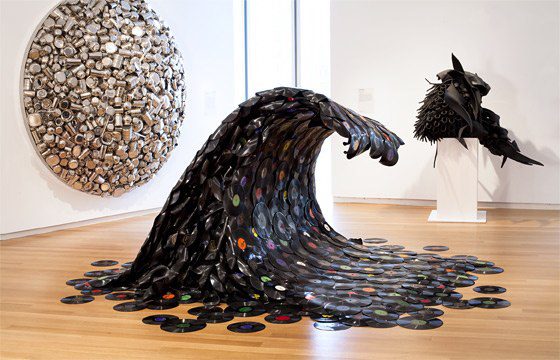 2.Water Lilies
3.Giant Pinecones
4.Wood Path Design
5.Piano Bookcase
6.Recycled Skateboard
7.Recycled Car Art
8.iMac Pet Bed
9.Test Tube Chandalier
10.Wood Pathway
11. Metal Butterfly
12.Plastic Spoon Flowers
13.Textile Art
14.Book Library
15.Robot
16.Autumn Spectrum
17.Computer Skylines
18.Phone Booth Lounge
19.Metal Scorpion
20.Cork Chair